Snow Sale
PROMO CODE: Snow17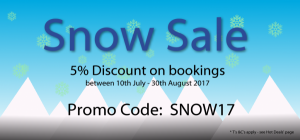 Discount car rental is happy to provide all our customers with a 5% discount on our retail rates during this winter.
Enter the promo code in the promo code field on the booking widget to redeem till August 30th 2017.
TERMS AND CONDITIONS
Standard Terms and Conditions apply.
Discount available at both Auckland and Christchurch branch.
Discount on standard rates only. Extras are at normal rates.